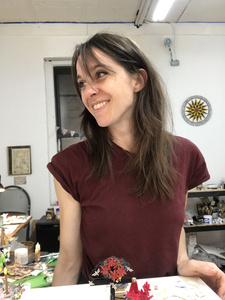 CONTACT: rachel.grobstein(at)gmail.com
BIO
Rachel Grobstein creates miniature sculptures and paintings based on objects from everyday life, inviting close attention through a radical scale shift. Her work ranges from constellations of paintings hung directly into the wall with pins,
evoking arrangements of specimens,
to sculptures cataloguing a world of things where domestic routine meets consumer culture and personal history.
She is the recipient of a Museum of Arts and Design Artist Studios Program residency, a Roswell Artist-in-Residence Fellowship, a Jentel Foundation fellowship, a Hammersley Foundation Grant, a Studios of Key West residency, and a Vermont Studio Center Full Fellowship and Residency supported by the Joan Mitchell Foundation. Solo exhibitions include Andrew Rafacz Gallery (Chicago, IL 2018), Next to Nothing Gallery (New York, NY, 2018), the Roswell Museum and Art Center (Roswell, NM, 2017), and This Friday or Next Friday (Brooklyn, NY, 2015). She will have a solo exhibition at Galleri Urbane (Dallas, TX) in February 2020. Grobstein received her MFA in Painting from the Rhode Island School of Design and her BA in Philosophy and Visual Arts from Bowdoin College.
CV

EDUCATION
2013 MFA, Painting, Rhode Island School of Design, Providence, RI
2006 BA, Philosophy and Visual Arts, Bowdoin College, Brunswick, ME

RESIDENCIES
2019 Museum of Arts and Design Artist Studios Program, New York, NY
2018 Jentel Foundation, Artist Residency Fellowship, Banner, WY
2017-2018 Roswell Artist-in-Residence (RAiR) Program Fellowship, Roswell, NM
2017 The Studios of Key West, Artist Residency, Key West, FL
2012 Vermont Studio Center Full Fellowship & Residency supported by the Joan Mitchell Foundation, Johnson, VT

SOLO AND TWO PERSON EXHIBITIONS
2020 TBA, Galleri Urbane, Dallas, TX (forthcoming)
2018
Infra-ordinary
,
Andrew Rafacz Gallery, Chicago, IL
pills and moons and things, Next to Nothing Gallery, New York, NY
2017 these dreams go on when I close my eyes, Roswell Museum and Art Center, Roswell, NM
Rachel Grobstein and Margaret Meehan
, Ulterior Gallery, New York, NY (two person exhibition)
2015 La Mancha, This Friday or Next Friday, Brooklyn, NY
2011 So Long, It's Been Good to Know Ya, McGladrey Gallery, Bentley University, MA
SELECTED GROUP EXHIBITIONS
2020 Death Becomes Her, BRIC House, Brooklyn, NY (forthcoming)
2019 Private Collection, Galleri Urbane, Dallas, TX, curated by Adrian Zuniga
Domestic Matters, Peters Valley School of Craft, Layton, NJ, curated by Gail M. Brown
2018 The Last Equestrian Portrait, SPRING/BREAK Art Show, New York, NY, curated by Kyle Hittmeier and Amanda Nedham
WRMTA, West Reading, PA, curated by Kayla Mattes
2017 Generation 50, Isaac's Pipe and Supply, Roswell, NM
Beyond The Gift of Time, Roswell Museum and Art Center, Roswell, NM
2016 Making the Future, David & Schweitzer Contemporary, Brooklyn, NY
Art & Process, Milton J. Weill Art Gallery, 92nd St Y, New York, NY
2015 Reactivator, The Active Space, Brooklyn, NY
Leftovers, Arcilesi & Homberg Fine Art, New York, NY
Nothing But Flowers, Talking Pictures, Brooklyn, NY, curated by Zach Seeger
All Good Things, Arcilesi & Homberg Fine Art, New York, NY
2014
Free Box, The Micro Museum, Somerville, MA
Small Goods, Projekt 722, Brooklyn, NY
Balls to the Wall, Arcilesi & Homberg Fine Art, Brooklyn, NY
Small Works, Trestle Gallery, Brooklyn, NY
The Last Brucennial, Bruce High Quality Foundation, New York, NY
Transition V.2, Associated Gallery, Brooklyn, NY
2013 Boston Young Contemporaries, 808 Gallery, Boston University, Boston, MA
Well…, Projekt 722, Brooklyn, NY
Graduate Select Exhibition, Sol Koffler Gallery, Providence, RI
RISD Graduate Thesis Exhibition, RI Convention Center, Providence, RI
More and More, More is More, Gelman Gallery, Chace Center, Providence, RI
2012 Do You Think I Care, Gelman Gallery, Chace Center, Providence, RI
Too Big To Fail, Sol Koffler Gallery, Providence, RI
The Medium Is the Message, Worcester Windows, Worcester, MA
Two Becomes One, Wayfarers, Brooklyn, NY
Boston Young Contemporaries, 808 Gallery, Boston University, Boston, MA
ART//SHOW, Granoff Center, Brown University, Providence, RI
Lostronaut, Rhode Island School of Design Museum of Art, Providence, RI (Sitings prize installation)
Come Here: I Need You, Gelman Gallery, Chace Center, Providence, RI
2011 Hot For Teacher, Howard Art Projects, Boston, MA
2009 EXTINCT! Brush Art Gallery, Lowell, MA
Figure it Out, Mission Hill Gallery, Boston, MA

HONORS/AWARDS
2017 Hammersley Foundation Grant, Albuquerque, NM
2012 Graduate Fellowship and Honors, Rhode Island School of Design
RGH Prize, Boston Young Contemporaries Exhibition
2011 Sitings Prize: Museums in Motion, Rhode Island School of Design Museum of Art, RI, Juror Nancy Chunn
Graduate Fellowship and Honors, Rhode Island School of Design
2010 Montague International Travel Grant
2006 Delta Sigma Art Prize

BIBLIOGRAPHY
2019 Maake Magazine, Issue 10, Curated by Nickola Pottinger
Natalie Gempel, Private Collection Explores the Life of Stuff, DMagazine, August 1, 2019
Create! Magazine, March/April, 2019
2018 Blouin Artinfo,
Big Ideas, Miniature Scale: Rachel Grobstein at Andrew Rafacz Gallery
, June 21, 2018
Daniel A. Gross,
Art on Paper Folds Together Elegance and Unruliness
, Hyperallergic, March 9, 2018
Simone Solondz,
Everything But The Kitchen Sink
, RISD XYZ
, Spring/Summer 2018
2017 Christina Stock, Artist Profile: A Miniature Snapshot of Life, Vision Magazine, pg. 13 - 14, November 16, 2017
Alanna Martinez,
A Recipe for the Perfect Art Fair
, Observer, March 5, 2017
2014 Danielle Kalamaras, Conversations of Change: Transitions V.2 at Associated Gallery, Bushwick Daily, January 28, 2014
2012 New American Paintings: MFA Annual, Issue No. 99, April/May 2012, Juror Alma Ruiz

PUBLIC COLLECTIONS
Anderson Museum of Contemporary Art

REPRESENTATION
in Texas by Galleri Urbane