ROADSIDE MEMORIALS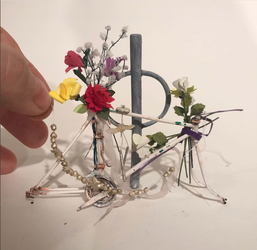 A recent series of sculptures is based on photographs I've taken of real-life roadside memorials, layering homage upon homage. This project explores how collections of objects in memorials offer a powerful language of loss, love and memory. Roadside memorials are often temporary and collaborative spaces of mourning which function as collision sites, where hierarchies are flattened between the sacred and mundane and private space blurs with public space. This series explores how these places for negotiating grief and trauma become portraits of the deceased, as well as th
ose they have left behind.
BEDSIDE TABLES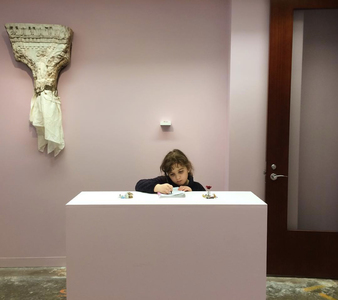 Left​ ​to​ ​its​ ​own​ ​devices,​ ​vision...overlooks​ ​ninety​ ​percent​ ​of​ ​the​ ​world​ ​in​ ​order​ ​to​ ​follow​ ​the​ ​tracks laid​ ​down​ ​for​ ​vision​ ​by​ ​the​ ​world's​ ​definition​ ​of​ ​spectacle,​ ​and​ ​by​ ​its​ ​own​ ​desires.​ ​[...]​ ​Still​ ​life loves​ ​the​ ​'so​ ​what'.
-​ ​Norman​ ​Bryson,​ ​​Looking​ ​at​ ​the​ ​Overlooked:​ ​Four​ ​Essays​ ​on​ ​Still​ ​Life​ ​Painting

Attention by itself is an enlarging glass.
- Gaston Bachelard, The Poetics of Space

Every passion borders on the chaotic, but the collector's passion borders on the chaos of memories.
- Walter Benjamin, Unpacking My Library
This series of miniature sculptures catalogues​ ​the​ ​objects on​ ​people's​ ​bedside​ ​tables.​ ​I​ ​began​ ​by​ ​asking​ ​friends​ ​for​ ​pictures​ ​of​ ​their​ ​nightstands,​ ​and later​ ​expanded​ ​the​ ​series​ ​to​ ​include​ ​people across the country.​ ​I​ have been interested for a long time ​in​ ​how​ ​people's​ ​collections​ ​of stuff create​ ​snapshot​ ​biographies,​ ​and​ ​I​ ​became especially fascinated​ ​by​ ​the​ ​wide​ ​array​ ​of​ ​objects​ ​kept​ ​on​ ​bedside​ ​tables,​ ​where​ ​tissues​ ​and​ ​chapstick jumble ​alongside​ ​sacred mementos. Items​ ​to​ ​screen​ ​out​ ​the​ ​world​ ​(earplugs,​ ​eye​ ​masks,​ ​​sleeping​ ​pills)​ ​are kept​ ​alongside​ ​those​ ​that​ ​invite​ ​the​ ​world​ ​in​ ​(​TV​ ​remotes,​ ​iPads,​ ​phones).
These​ ​bedside​ ​collections​ ​speak​ ​to​ ​universal​ ​themes,​ ​from​ ​memory and​ ​self​ ​care​ ​to​ ​sex​ ​and​ ​dreams.​ ​But​ ​they​ ​also​ ​create​ ​complicated​ ​individual​ ​portraits​ ​of​ ​their owners,​ ​in​ ​contrast​ ​with​ ​the​ ​more​ ​idealized​ ​and​ ​narrowly​ ​curated​ ​collections​ ​one​ ​might​ ​find​ ​on​ ​a coffee​ ​table​ ​or​ ​other​ ​public​ ​space​ ​in​ ​a​ ​home. We​ ​spend​ ​about​ ​a​ ​third​ ​of​ ​our​ ​lives​ ​asleep:​ ​what​ ​are​ ​the​ ​last​ ​things​ ​we​ ​want​ ​to​ ​see​ ​or​ ​touch before​ ​drifting​ ​off,​ ​and​ ​what​ ​do​ ​we​ ​want​ ​watching​ ​over​ ​us​ ​or​ ​within​ ​arm's​ ​reach​ ​when​ ​at​ ​our most​ ​physically​ ​vulnerable?​ ​This work catalogues a daily world where routine meets consumer culture and personal history.
SPACE JUNK
Inactive satellites, the upper stages of launch vehicles, discarded bits left over from separation, and even frozen clouds of water and tiny flecks of paint all remain in orbit high above Earth's atmosphere. When one piece collides with another, even more debris is released. Over 21,000 pieces of space trash larger than 4 inches (10 centimeters) and half a million bits of junk between 1 cm and 10 cm are estimated to circle the planet. And the number is only predicted to go up.
- Nola Taylor Redd,
Space Junk: Tracking and Removing Orbital Debris
I saw two shooting stars last night, so I wished on them but they were only satellites, is it wrong to wish on space hardware...
- Billy Bragg,
A New England
I am old. Everything is old. The planet is old. & there's no way to get rid of all this plastic. & we're shooting the shit into space. I used to want to go into space. For what? To see all this garbage floating by.
- Yuji Agematsu
There'd be time for that later; time to throw condensed-milk cans in the proud Martian canals; time for copies of the New York
Times
to blow and caper and rustle across the line gray Martian sea-bottoms; time for banana peels and picnic papers in the fluted, delicated ruins of the old Martian valley towns. Plenty of time for that. And he gave a small inward shiver at the thought.
- Ray Bradbury,
The Martian Chronicles
It does not prevent me from having a terrible need of, shall I say the word - of religion - then I go outside in the night to paint the stars.
- Vincent van Gogh, letter to Theo
Lying on our backs, we look up at the night sky. This is where stories began...
​- John Berger,
And Our Faces, My Heart, Brief as Photos
Constellations​ ​of​ ​cut,​ ​painted​ ​paper​ ​are​ ​installed​ ​directly​ ​into​ ​the​ ​wall​ ​with​ ​pins,​ referencing​ ​natural​ ​specimens and creating an architecture of shadows. Works in a recent series are composed of objects drawn from the mythology of specific constellations, celestial movement, and inventories of daily life. This work is informed by research into how space junk is rapidly accumulating in the earth's atmosphere, out of sight like garbage in landfills but not gone.
***
"Little things really belong to you," she said, folding the fan. "They don't have to be left behind. You can carry them in a shoebox."
"Carry them where to?"
"Why wherever you go. You might be gone a long time."
- Truman Capote, In Cold Blood